Emergency Services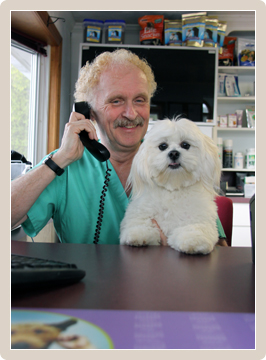 As much as we try to prevent illness, Norfolk County Veterinary Service understands that emergencies do happen—an as yet unidentified illness can become acute or a pet suffers a critical accident, for example. Ensuring our clients are well taken care of during an emergency situation is an important aspect of providing complete, compassionate care for your companion.
During our regular office hours we are more than capable of handling a wide range of emergencies. We do ask that you call, if possible, before bringing your pet in so that we are prepared for your emergency and are waiting for you.
For emergencies that occur after our normal hours we refer our clients to the following specialty hospitals.
Tufts Veterinary Emergency Treatment Services
525 South St.
Walpole, MA 02081
(508) 668-5454
Angell Animal Medical Center
350 S. Huntington Ave.
Jamaica Plane, MA 02130
(617) 522-7282
When to Seek Emergency Care
The easiest answer as to whether you should seek emergency care for a pet is when you feel his or her medical condition is serious and cannot wait. However, the following general situations should help you determine if you need to seek out emergency care for your pet:
• Difficulty breathing
• Acute abdominal swelling
• Electric shock
• Excessive vomiting or diarrhea
• Excessive bleeding
• Exhibits symptoms of heat stroke
• Repetitive and prolonged seizures
• Snake bites
• High or low temperature (more than 104 or less than 100 degrees)
• Unable to urinate or defecate