Meet Our Friendly Walpole, MA Veterinarian Office Staff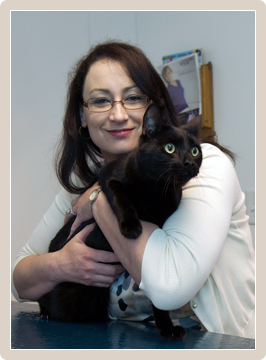 Practice Manager Lauren Tavares has been with Norfolk County Veterinary Service since April of 2008. In addition to her years of experience, she has a Bachelor of Science from Northeastern University with a concentration in Law and Legal Studies and a Master's of Science in International Business from Southern NH University.
"I enjoy working at this practice because of our fantastic sense of teamwork and sense of pride in our hospital and our jobs," she says.
Lauren resides in Providence, Rhode Island with Wayne, her husband, and their three cats. Their names are Arya, Kitten, and Nunzio Anthony. When not working, Lauren and her husband like to go biking, to the movies, and they enjoy sporting events. She is an avid Cubs, Patriots, Bruins and Celtics fan. When they can find time to travel, they enjoy visiting different Major League ballparks. Their goal is to visit each ballpark at least once.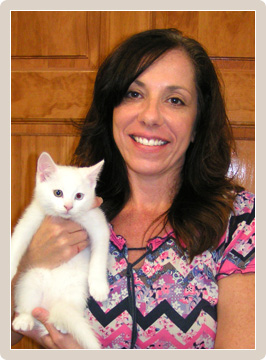 Tracy has been with Norfolk Veterinary Service since March of 2008. She was originally hired and worked as a veterinary technician, but in 2019 she was promoted to the position of Office Manager.
"I have been a client here for more than 32 years," she says. "I really enjoy spending time with my coworkers in and outside of work because they are a great group of people. I am also proud of the exceptional level of care and compassion toward all clients and patients."
Tracy has 4 cats: ten-year-old Polly, five-year-old Logan, siblings Jack and Ninny Muggins who are both three years old. All are "dumpster cats" who have been hand-raised and some were even bottle fed. Her interests include fishing, hiking, traveling, spending time with nieces and nephews and backyard bird watching. She has more than eight bird feeders, so there's always lots of entertainment. Tracy has more than thirty years experience as a dancer. She was a former dance teacher in her mother's dance school and performed at Disney and on Carnival and Royal Caribbean cruise ships.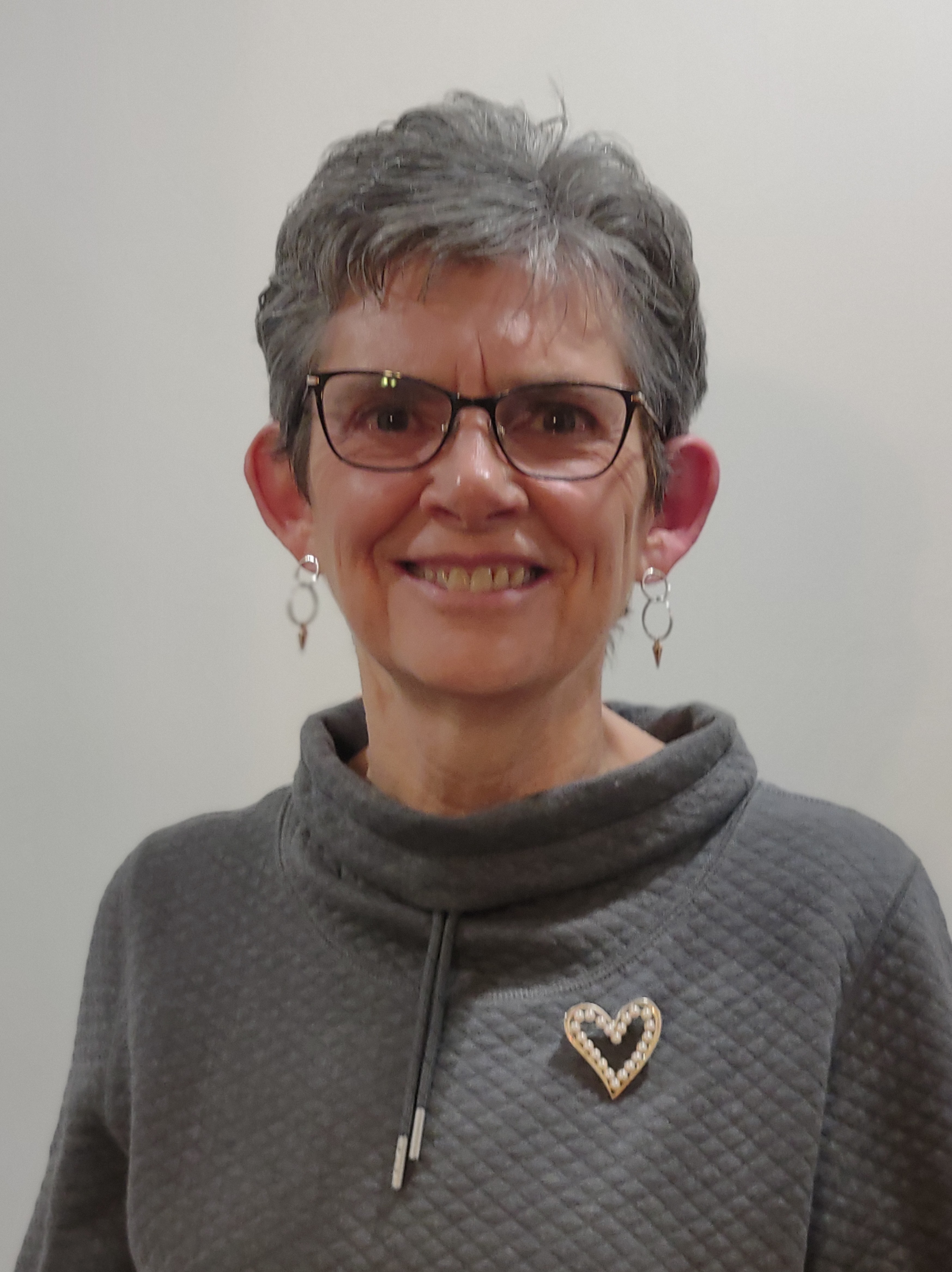 Donna
has been with Norfolk County Veterinary Service since January of 2009. In the beginning, she was a receptionist, but in March of 2020 she retired from the desk and began working from home as the
Social Media Manager
. As part of her job, she manages the Norfolk County Veterinary Service Facebook page as well as all printed and digital advertising. She is a former elementary school teacher and has a Bachelor of Arts degree from UMass Dartmouth and a Master's degree in Creative Arts in Learning from Lesley College.
"Before being employed here, I was a client," she says. "I like the personal and caring touch that each pet receives from the veterinarians here. I also like being a member of a team that genuinely cares about animals and people."
Donna lives in Taunton with her husband and two Labrador Retrievers. One is named Angie and the other is Frankie. They are young, smart, affectionate, and are helping to keep Donna and her husband mentally and physically active. Donna's interests include gardening, knitting, cross-stitch, sewing (particularly making quilts), walking and hiking, reading, cooking, playing board and card games, computer games, and spending time with her husband and family, especially her two sons and six grandchildren.
Receptionists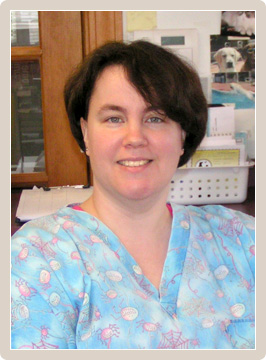 Amy
is one of our receptionists and has been with Norfolk County Veterinary Service since October of 1998. In addition to her years of experience, she has a Bachelor of Science in Biology from Wheaton College.
"We have a great team and we have fantastic clients," she says of her work, "and I love talking to people about their animals."
At home, she has a Senegal Parrot named Bijou Peche and two ferrets named Hadoken and Shoryuken. Amy's interests include reading and needlework. She has stitched several needlework pieces the size of posters!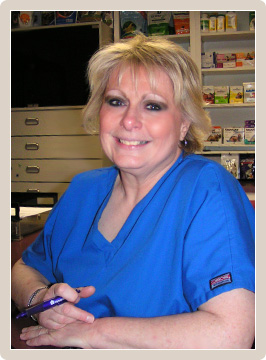 Jackie
is a receptionist who has been with Norfolk County Veterinary Service since November of 2010. In addition to her work experience she has a Veterinary Assistant Certificate from Massasoit Community College.
"Before I started working here I was a client and loved coming here with my pets because of the caring staff, technicians and doctors," she says. "Now that I work here I am glad I can be part of it."
Jackie has three cats named Duncan, Paddington, and Lucy. Her interests include reading, watching movies and spending time with my children and grandson Rocco.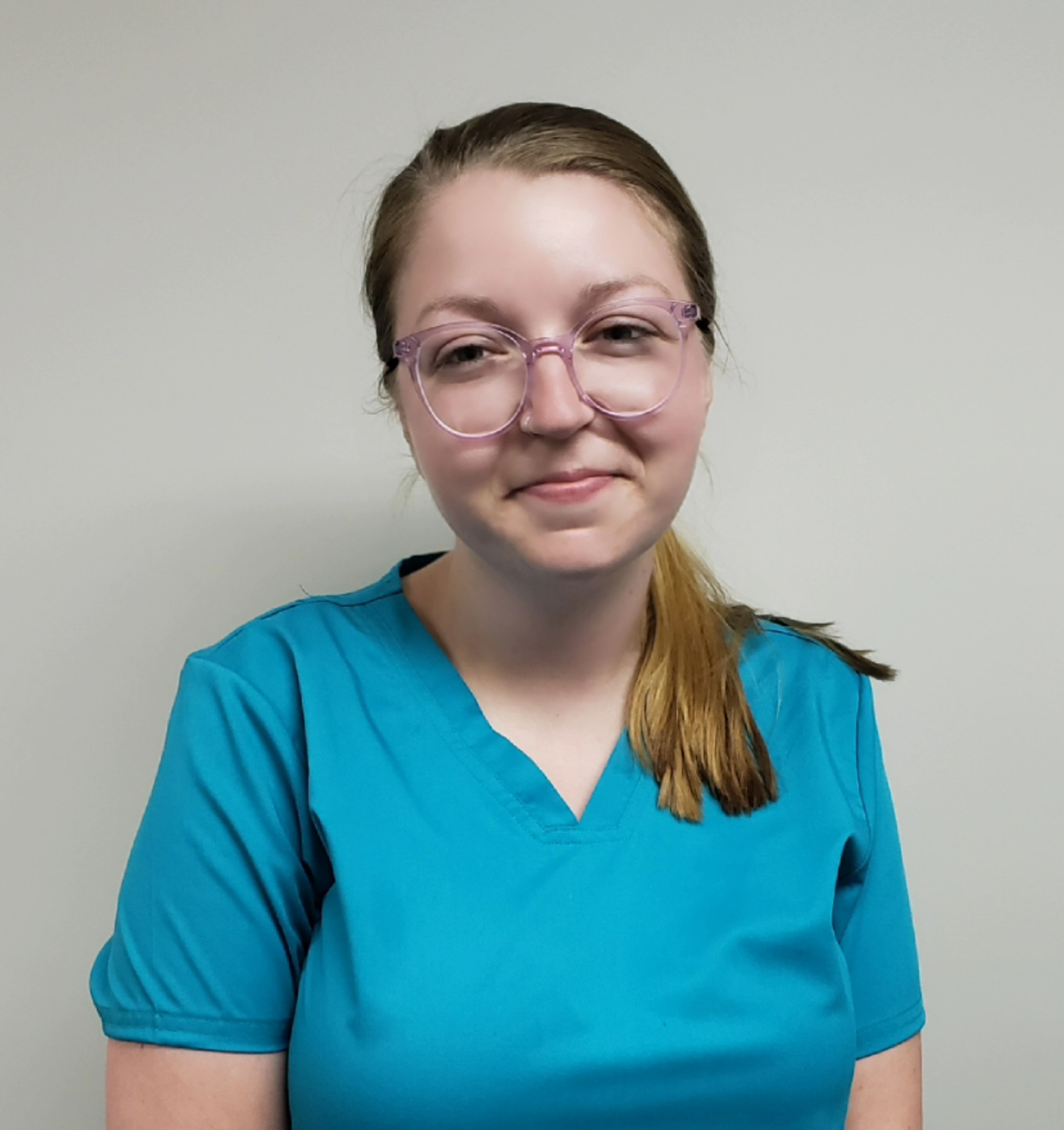 Haley began working as receptionist/technician at Norfolk County Veterinary Service in June of 2021. She had more than eight years experience working with animals, but this is her first veterinary job. It had always been a dream of hers to work in a veterinary setting and she is grateful for the opportunity this position has given her. Prior to coming to Norfolk County Veterinary Service, Haley was the manager of a pet supply store that had a training facility and grooming salon. She has an associates degree in liberal arts from Massasoit Community College.
Haley has always loved building relationships with pets and their owners. She enjoys learning more about them and herself in the process. When asked why she liked working at Norfolk County Veterinary Service, she replied, "The doctors, technicians, receptionists, and clients have been so welcoming and kind. I love learning in this fast-paced environment and I feel I am learning from the best!"
Haley has four cats named Damon, Marla, Binx, and Glenn. She refers to herself as a "bit of a cat lady" and finds that she is able to easily connect with most cats and their owners. She rarely forgets a name and has been told she has the memory of an elephant.
When not at work, Haley is involved in ocean conservation programs and is a supporter of Sea Shepherd. In her free time, she loves to read and listen to podcasts. She also loves kayaking, camping, and participating in beach clean-ups.
Technicians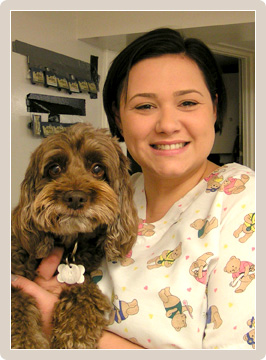 Nicole
is a Veterinary Technician who has been with Norfolk County Veterinary Service since February of 2009, but began her career in animal care in 2006.
When asked what she enjoys most about her work, Nicole says, "It has a small, intimate practice environment and I really do love my coworkers and management team. We truly provide personalized care to our patients."
Nicole has one cat named Loo. Her interests include camping, traveling and spending time with Connor, her son, as well as her family and friends.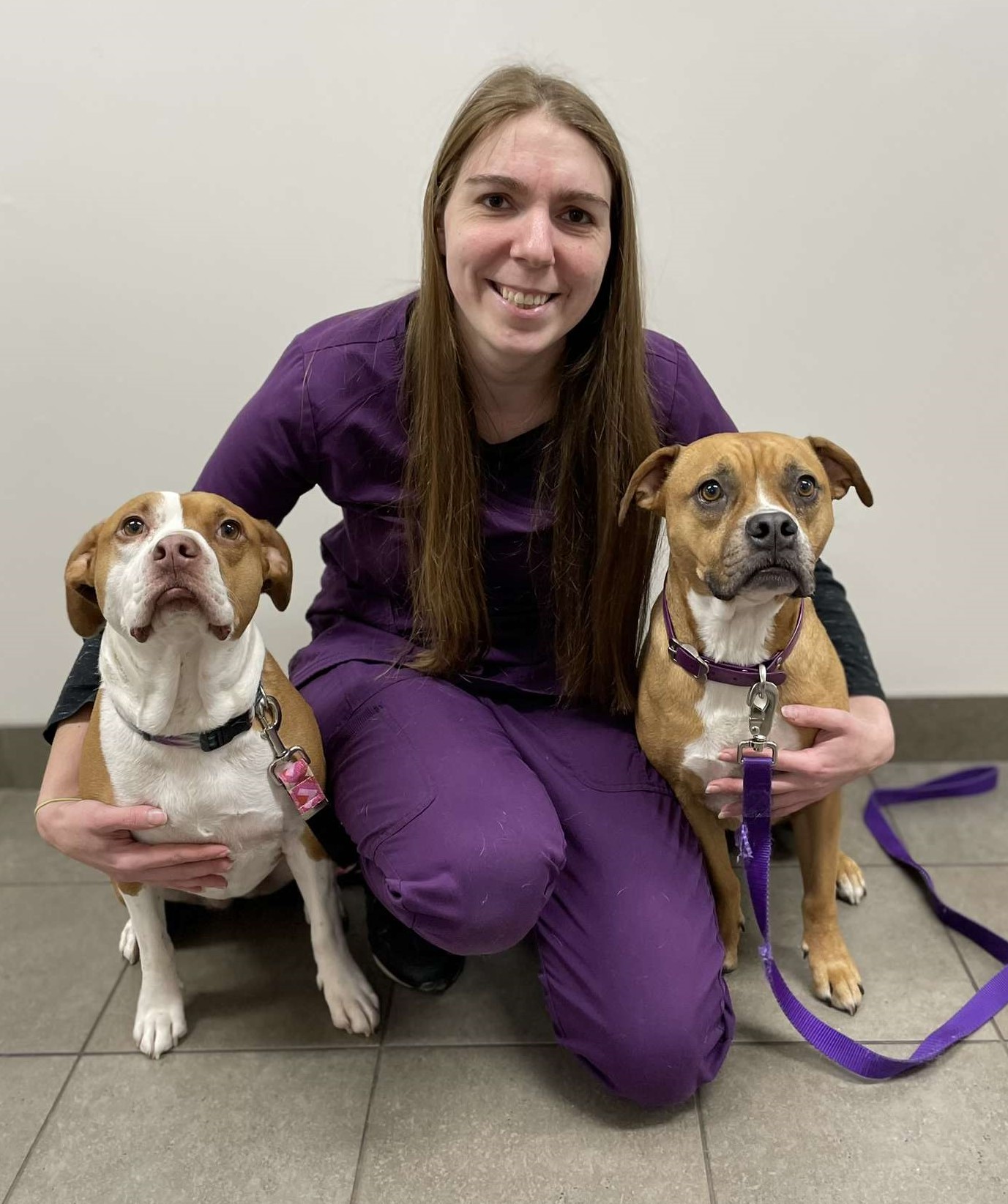 Jessica
joined the staff of Norfolk County Veterinary Service in November of 2018 with over 5 years of experience working at various farms including: Edraz Farm, Sugarridge Farm, Cutler Farm, and Ten Broeck Farm. She has an Associates degree in Equine Business Management.
"I enjoy meeting and working with all the different patients. I like working here because my co-workers are all nice, helpful, and easy to work with. I am able to learn a lot about veterinary medicine, and the level of care for both client and patient is very thorough and of high quality."
Jessica's pets include three dogs (Luna, Harley, and Duke), a nineteen-year-old paint horse named Sydney, and six Rhode Island Red chickens. In her spare time she enjoys horseback riding, gardening, reading, and playing video games. She is a member of the Charles River Dressage Association.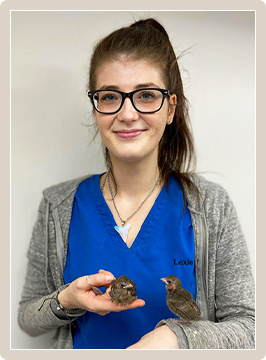 Alexa
is a part-time veterinary technician. She began working at Norfolk County Veterinary Service in May 2020. She has been employed in animal related fields since 2015.
When asked what Alexa likes best about working at Norfolk County Veterinary Service, she replied, "I love working at NCVS because all of the staff work really well together, especially in making sure every animal is taken care of to the best of our ability everyday while also developing good relationships with the owners." Her favorite part of the job is treating/taking care of the animals whether it is just feeding and walking animals or administering fluids and medications to them. She likes to make sure the patients are comfortable while staying at the hospital. Alexa is extremely passionate about animals and does everything in her power to do what's right for the animals and she strives to treat every animal with love and compassion.
Alexa has lots of pets. She has a DSH cat named Lilybug, two crocodile skinks Venus & Phoenix, a hedgehog named Autumn, a painted turtle named Dexter, and a bearded dragon named Ducky. In addition to taking care of her pets, Alexa shadows rehabilitators and is working on her license to rehabilitate wildlife herself.
When Alexa is not working, she likes to read, cook, and spend time outdoors with friends and family.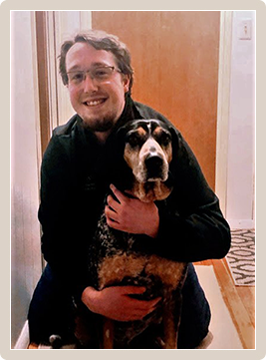 Veterinary Technician
Brandon
began working at Norfolk County Veterinary Service in December of 2020. Before coming to NCVS, he worked at Foxboro Animal Hospital for more than 3 years. Brandon has an Associate's Degree in Veterinary Technology from New England Institute of Technology. He is a Certified Veterinary Technician in the state of Massachusetts.
"The best part of my job is helping sick animals feel better, as well as making sure animals feel safe and comfortable while at the vet. I like working at Norfolk County Veterinary Service because of the welcoming atmosphere all the employees exhibit to clients and patients. I like all the love and compassion everyone shows to the patients to help the owners feel like they're in good hands."
Brandon lives with his parents, who have a dog named Chief. Chief is a male Blue Tick Coonhound that was rescued from Tennessee. Brandon enjoys camping and spending time outdoors.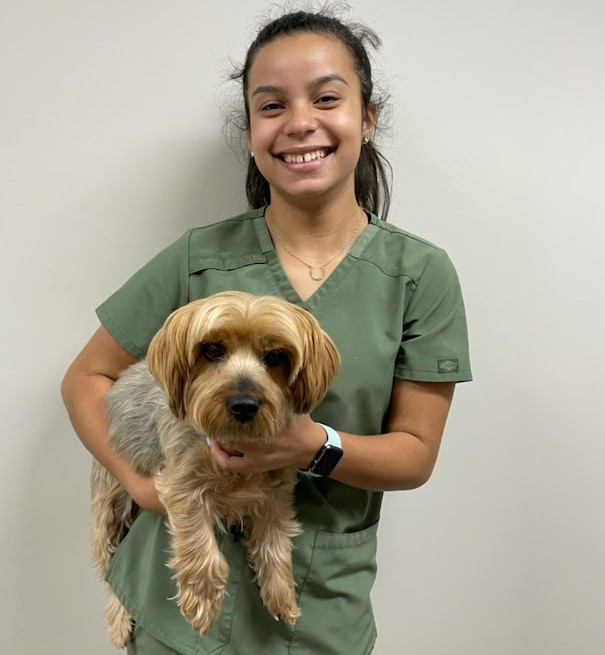 Maria is a technician who began working at Norfolk County Veterinary Service in May of 2021. She has been working in animal related fields on and off for about 2 years. She worked at a barn for a year in 2019/2020 then switched to a closer barn after that and is still there. She also worked at school (Norfolk County Agricultural High School) for a few days before summer break taking care of the animals around campus. The animals ranged in size from small reptiles to large farm animals. She currently attends Norfolk County Agricultural High School and plans to eventually go to college when she graduates in 2022. Her dream is to become a veterinarian.
"I love this clinic because it's small where you can get to know your patients more and have them going there for a long time. Everyone is super nice and takes the time to teach you something if you need it."
Maria has 7 pets that include: a dog named Kiara who is Yorkshire and Maltese mix, a winter white dwarf hamster named Nala, a cockatiel named Zazu, a canary named Philip, and three goldfish named Bubbles, Buttercup and Blossom. At school when clubs were running before COVID she was President of Vet club and a member of the Kennel Club. In my free time she usually can be found playing with her dog and hamster. She likes going on drives with her dog because Kiara loves going out! Maria visits Brazil where she rides her horses and spends most of her money on ice cream because something about the ice cream there is different!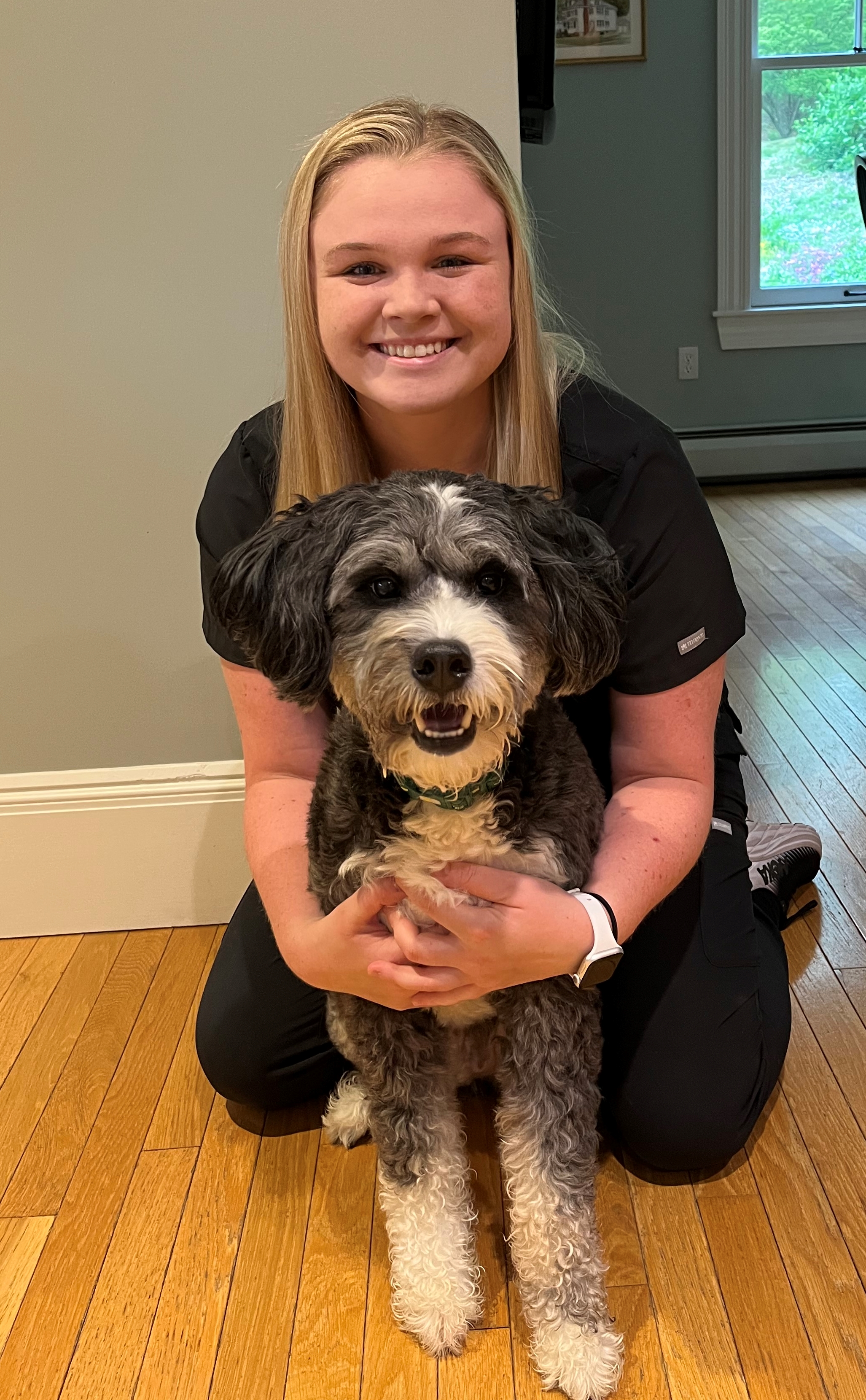 Caroline is one of our full-time veterinary technicians. She joined the practice on May 2, 2022. From June 2021-May 2022, she worked at Mass General Hospital providing basic veterinary care and animal husbandry to mice and rats. Caroline graduated from Fairfield University in May 2021 with a Bachelor of Science degree in Biology.
When asked what part of her job she liked best, she responded, "I enjoy that each time you go into a room with a patient, you could be dealing with something totally different, and there are many different aspects to the veterinary medicine field. I love learning from my coworkers and being able to help pets and their parents in the process." She likes that her co-workers have been so helpful in teaching her everything she needs to know to be the best tech! "Norfolk County Veterinary Service is an open and inviting place, and the employees have great relationships with their clients."
Caroline's experience handling small animals is an attribute that makes her an asset at Norfolk County Veterinary Service. She is familiar with some conditions that mice and rats may get that would cause them to come see a veterinarian and she knows how to help make their experience at the office less stressful.
Caroline has a dog named Willie; he is a mini bernedoodle. She also has a variety of fish. She is involved in an organization called Future Frogmen that provides educational materials and outreach programs about climate change, plastic pollution, and species survival. During her free time, she coaches a youth girls basketball team with one of her friends. Caroline also enjoys fishing, going to the beach, and spending time with her family.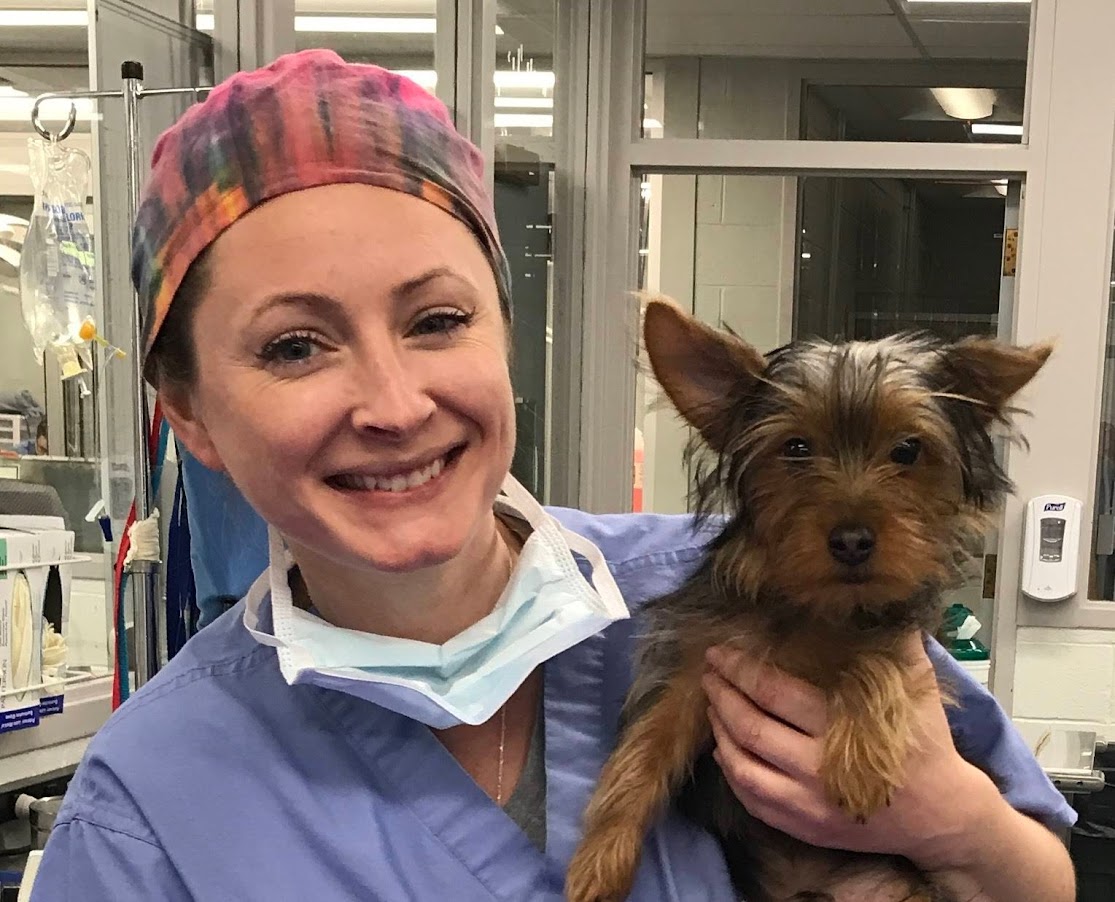 Mandy
is a technician you may recognize from years ago having worked at NCVS from 2000-2014. She then did nine years as an anesthesia technician in Angell Memorial's surgery department. She has returned to NCVS to be closer to home and continue her care for animals with coworkers she still knows and loves from nine years ago!
Her love of animals and desire to work with them started at an early age and was further instilled by going to Norfolk County Agricultural High School and majoring in Canine Science. She went on to Mount Ida College and earned her bachelor's degree in veterinary technology and became a CVT (Certified Veterinary Technician).
Outside of work, Amanda likes to enjoy nature with her dog on long walks or watch live music with friends. She has a Yorkshire terrier named Opie and a 3-legged cat named Tipper. She has a soft spot for tripods! She had another 3-legged cat in the past along with other cats and dogs.