Walpole, MA Veterinarians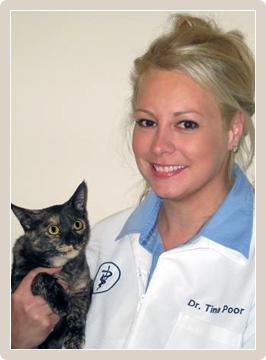 Christina M. Poor, BVetMed, MRCVS
Dr. Christina M. Poor is a General Practitioner and owner of Norfolk County Veterinary Service since April of 2008, though she began practicing here in May of 2005.
Dr. Poor says that she cannot point to any significant event or influence that steered her toward a career in veterinary medicine, rather it is something that she has always known she wanted to do with her life. She grew up on the North Shore of Massachusetts attending Masconomet Regional High School in Boxford. During high school she began working at New England Veterinary Clinic as a receptionist and kennel attendant, and worked there for almost ten years until leaving for England to attend veterinary school.
For her undergraduate studies Dr. Poor enrolled in Tufts University under an academic scholarship and graduated with a Bachelor of Science in Biology in 1996. Prior to entering veterinary school, she worked in laboratories at Harvard Medical School and the Dana Farber Cancer Institute where she coauthored several papers on oncology. However, her desire to work with animals compelled her to a career in veterinary medicine.
Dr. Poor entered the Royal Veterinary College in London, England, to pursue studies in veterinary medicine and surgery. During this time, she traveled and completed a number of internships throughout England, Scotland and New Zealand. She also worked as a veterinary consultant for Tepnel Lifecodes, a biotechnology company based in Manchester, England. In 2004, she graduated with honors after earning her veterinary degree, which in the United Kingdom is called Member of the Royal College of Veterinary Surgeons.
Soon after graduation, Dr. Poor returned to the Boston area to begin practicing veterinary medicine first in West Boylston, Massachusetts, and then at Norfolk County Veterinary Services. Her areas of special professional interest include surgery, internal medicine and tick borne diseases. She is also a member of the American Veterinary Medical Association and the Massachusetts Veterinary Medical Association.
At home, Dr. Poor has two tortoise shell cats named Cookie and Little Cookie (a half-sized version of her sibling), a cat named Misty, and one Dutch rabbit named Judy. Her interests include gardening and playing tennis with her daughter Charlotte.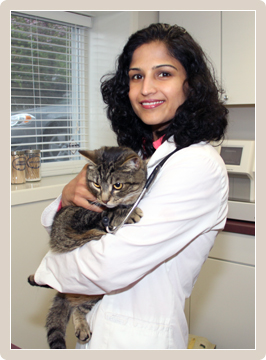 Seema Dabas, DVM
Dr. Seema Dabas is a General Practitioner who has been a member of the Norfolk County Veterinary Service medical team since January of 2011.
As a young girl growing up in Bhiwani, Haryana, India, Dr. Dabas' love for all animals inspired her to feed the street dogs near her home as well as to provide them shelter. This act of compassion was noticed by her chemistry teacher in school and he encouraged her to consider a career in veterinary medicine as well as acted as a mentor to her.
As a student at Baptist Senior Secondary School—the equivalent of high school in the U.S.—Dr. Dabas was able to focus her studies on biology and math. She was also very active in sports and won two national badminton championships at the high school level. After graduating in 1995, she enrolled in the Chaudhary Charan Singh Agricultural University in Haryana for veterinary school and then completed a final clinical year of study at Iowa State University's College of Veterinary Medicine. In 2000, she graduated with a Bachelor in Veterinary Science and Animal Husbandry, which is the equivalent of a Doctorate of Veterinary Medicine in the U.S.
Dr. Dabas also participated in a Small Animal Medicine and Surgery Internship at the Angell Animal Medical Center and has taken continuing education coursework in ultrasound and veterinary dentistry and dental radiography. She is particularly interested in soft tissue surgery and is a member of the Massachusetts Veterinary Medical Association and the American Veterinary Medical Association.
At home Dr. Dabas has a dog and two sons that keep her busy. When not at work or taking care of her family, her interests include swimming, cooking, playing badminton, table tennis and walking.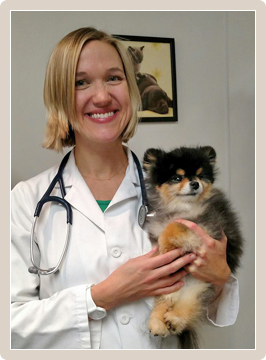 Emily McCabe, DVM
Dr. Emily McCabe joined Norfolk County Veterinary Service in September 2016.
Dr. McCabe graduated from Case Western Reserve University in 2005 with a Bachelor of Science degree in chemical engineering. Dr. McCabe had a circuitous journey in becoming a veterinarian. While she harbors interest in science and math and is a lifelong animal lover, she spent five successful years working with Fortune 500 clients at the global consulting firm Accenture after completing her undergraduate degree.
Beginning in 2010, she spent two years working as a veterinary assistant in a small animal hospital in Manhattan. She fell in love with the career and proceeded to attend veterinary school at Cornell University in Ithaca, New York. At Cornell, she was active in organizations that provided low-cost veterinary care to community members. She also worked as a radiology technician, where she gained valuable experience taking and analyzing X-rays of all kinds of species. She received her Doctorate of Veterinary Medicine from Cornell University. Dr. McCabe especially enjoys soft tissue surgery and working with owners to treat chronic illnesses, and is a member of the American Veterinary Medical Association.
Dr. McCabe resides in Norfolk with her three young children, a cat, and four chickens. In her free time, she enjoys yoga, skiing, cooking, and vacationing on Cape Cod.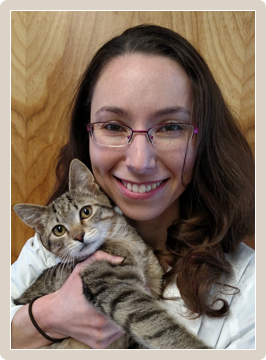 Tami Ilovich, DVM
Dr. Tami Ilovich comes to Norfolk County Veterinary Service from California. Originally from Israel, she graduated pharmacy school with honors, before receiving her Doctorate of Veterinary Medicine from the Hebrew University in Jerusalem on 2012. She is a member of the American Veterinary Medical Association.
Dr. Ilovich has experience treating various species of animals. She is committed to providing excellent veterinary care to cats and dogs, as well as small furry pets such as rabbits, guinea pigs, hamsters, gerbils, ferrets and chickens.
After relocating to New England, Dr. Ilovich became actively involved in several veterinary-related volunteer opportunities with small mammals and wildlife. She also volunteered routinely in a local feral cat trap and release, spay and neuter program before joining the staff of Norfolk County Veterinary Service.
Dr. Ilovich's professional interests include dermatology, dentistry, surgery and exotic animal medicine. On the weekends, Dr. Ilovich can be found hiking and camping with her family or baking chocolate cakes or other delicious treats.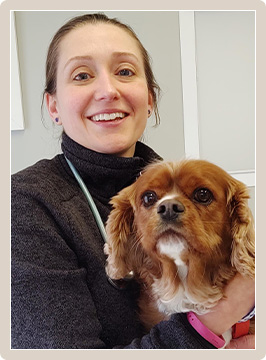 Sharon Chase, DVM
Dr. Sharon Chase joined the staff of Norfolk County Veterinary Service in December of 2019. Since graduating from Tufts Veterinary School in 2006, she has worked both as a veterinarian (in hospitals in Washington D.C. and Boston) and in the public health field. Her extensive veterinary medical experience includes a rotating internship, emergency/critical care, and general practice. She has also worked part time as a consultant for the veterinary pharmaceutical industry and as a medical officer with the Food and Drug Administration's Center for Veterinary Medicine.
Dr. Chase enjoys working as part of a team, helping to solve complex medical cases. Meeting new pets and owners also makes her work interesting and enjoyable. Her professional interests include preventative care, geriatric medicine, and nutrition.
When not at work, Dr. Chase enjoys reading, playing with her children, swimming, and hiking with her dog named Red. Her family also includes a cat named Ginger and two Guinea Pigs, Hip Hop and Little Pepsi.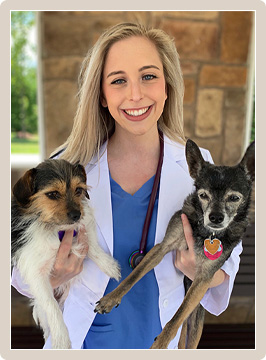 Dr. Meredith Leoni joined the staff of Norfolk County Veterinary Service in May, 2020.
She knew from a very young age that this was the career for her. She grew up in Canton, MA and attended Norfolk County Agricultural High School to begin her animal studies. From there she attended the University of Rhode Island and received her BS in Animal Science and Technology, Summa Cum Laude. Upon completion of her undergraduate degree, she attended Tufts Cummings School of Veterinary Medicine. She headed straight into general practice following graduation. Dr. Leoni loves the personalized feel of general practice and was attracted to the family atmosphere at NCVS.
Dr. Leoni has an interest in treating companion animals, including small mammals. She has always had several pets of her own including hamsters, gerbils, guinea pigs, birds, dogs, hedgehogs, and many fish throughout her life. She currently lives with her 2 rescue dogs; Bruno, an elderly Chihuahua, and Fiona, a young Terrier mix. She also has 2 lovebirds, Petal and Kiwi, and a variety of small mammals and fish.
In addition to her love of all animals, Dr. Leoni was very involved in the sport of gymnastics from a young age until college. She transitioned to coaching during her undergraduate years and is still an avid watcher. During her college years, she also spent time volunteering at a shelter and for a dog rescue providing transport and foster care. Her summers were spent working at a large New England zoo taking care of the animals in their petting zoo.
When not working, Dr. Leoni likes to spend time with family, friends, and her pets. She enjoys taking walks or hikes with her dogs. Dr. Leoni also finds time to relax watching Hallmark movies, baking, and doing various types of craft projects.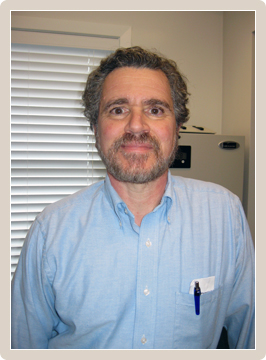 David Clark, DVM, Diplomate American College of Veterinary Surgeons
Veterinary Surgery Specialists, Inc.
Dr. David Clark is a board certified surgical specialist who provides onsite surgical services to Norfolk County Veterinary Service when necessary. Prior to his current practice, he was Head of Surgery at Oklahoma University's College of Veterinary Medicine.
Our partnership with Dr. Clark means that we are able to offer our clients specialized surgical services—especially in orthopedic cases—without referral to an outside specialty hospital. Among the many benefits of this arrangement is that your pet receives high quality surgical services in a timely manner in a facility he or she is familiar with.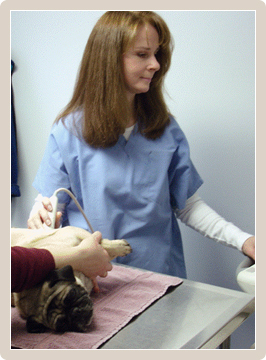 Pamela Harrigan, RDCS
Pamela Harrigan is a Register Diagnostic Cardiac Sonographer and the founder of Pet Animal Ultrasound Services, LLC, which provides ultrasound services for Norfolk County Veterinary Service.
Since entering the field of echocardiography during its early years, Pam has been involved in all areas of cardiac ultrasound, which includes clinical practice, research, education, and publication. Experienced with both adult and pediatric patients, her clinical affiliations have included Mass General Hospital and the Lahey Clinic as their lab technical director. She has also acted as a consultant in special projects at the Cleveland Clinic Foundation cardiac ultrasound laboratory.
In addition to authoring and coauthoring echocardiographic scientific papers, manuscripts and book chapters, she has published a textbook on cardiac ultrasound titled "Principles of Interpretation in Echocardiography." Her publications have earned several awards from professional societies.
Pam has also served as an associate editor the Journal of the Society of Diagnostic Medical Sonographers and is a past member of the executive board of the American Registry of Diagnostic Medical Sonographers as well as the American Society of Echocardiography. She directs a two-year school of echocardiography and has lectured extensively both nationally and internationally.
Currently, her work is focused in veterinary medicine, both clinical work and teaching/training ultrasound.